15 WORST outfits of 2016 that need to be flushed out-Set 1
Here's a roundup of what we saw in 2016 in the fashion industry and well, what we hated the most. Surprisingly some of the fashion faux pas have been made by the same celebrities and sadly, they didn't learn from their mistakes. One of our biggest fashion offenders has got to be Deepika Padukone because of her outrageous choices. Not very far behind is Sonam Kapoor who, by everyone's surprise, waltz wearing terrible outings. We do have a few surprise entries in this list. Overall, the year wasn't very breakthrough for fashion. Lot of outfits were repeated, lot of mistakes were made, lot of cringeworthy moments took place, I can go on and on. However, I'm gonna save my breath for now and directly move on to the worst outfits of the year. Yes, the list will also have us rating celebs in the bad to worse kinda meter. Fans of some of the B-townies are going to be hurt.
Deepika Padukone
Fans may want to pounce on me but hey, I got pictures that totally justify why DP is number one in my list. In this worst outfit game, there are a few folks who can come close to competing against the diva but definitely can't beat her. From her outrageous Sabyasachi fur faux pas to her big rosy gown, Miss Padukone surely gave 2016 some of its worst outfits. Although there are a few more ensembles that I would like to point out but nothing beats these two. The Sabyasachi creation with fur around the collar and horrendously appliqué work on the velvet fabric, gosh, words fall short to describe this atrocity. But hey, then we have her Gauri and Nainika black rosy gown which shed light to fashion's worst fears. Being a customized outfit, the gown was such a big letdown, especially since she was awarded the Style Icon trophy!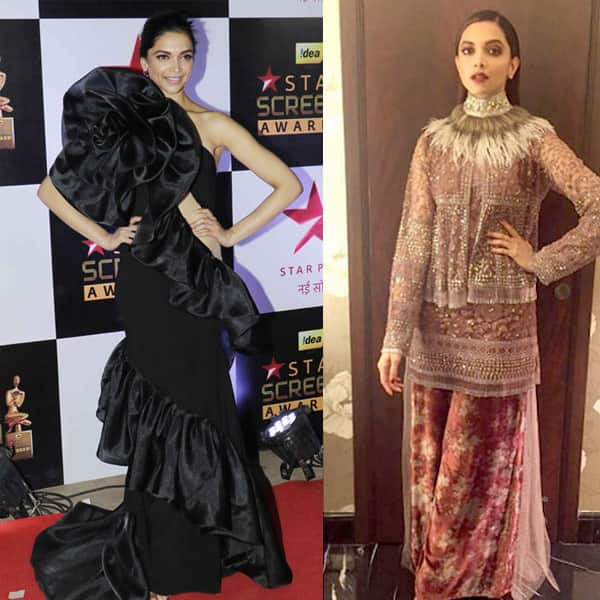 Sonam Kapoor
Clearly, the Fashionista term should be officially taken down from SK's name. In this one year, on several occasions, Sonam's experimental brain got the better of the outfit. Take the Prabal Gurung creation. There was absolutely nothing flattering about this outfit and to this day, I clearly remember this raggedy ensemble. Soon following this bad outfit is another big red carpet blunder. Wearing a Stephane Rolland gown, she was the biggest joke at the Star Screen Awards red carpet. No offense, Sonam but we just hope you've flushed that monochrome blunder out of your life.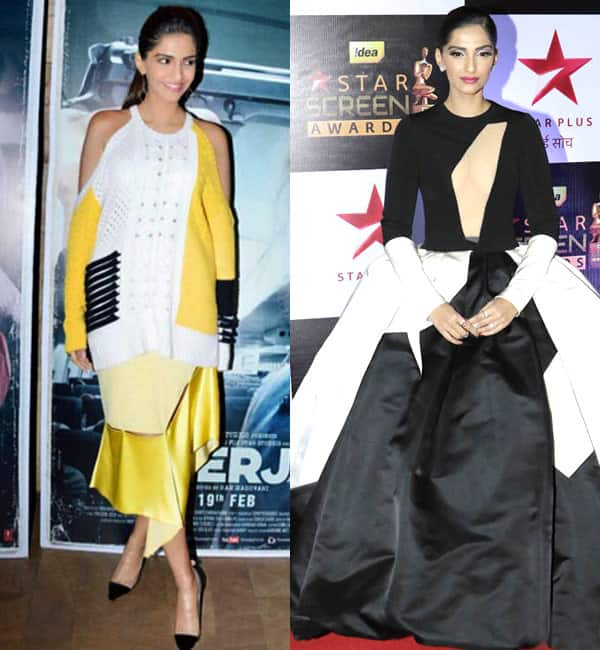 Priyanka Chopra
The initial eight months of Priyanka with her fashion parade was a sight worth watching. I was so inspired by her chic ensembles that I even tried a few. However, that definitely tumbled after I saw her don this hideous Sabyasachi outfit for a promotional event. If you notice, the celebrated designer has given Bollywood divas some of their worst looks this year! Oh but for PeeCee, her bad fashion didn't end there. Soon we caught her serenading the red carpet of Instyle Awards wearing what could possibly be a tailor's nightmare. The satin blue top was haphazardly stitched and her look was very, I'm finding difficulty in searching for a word that is synonymous to blunder. But I think you got the hint.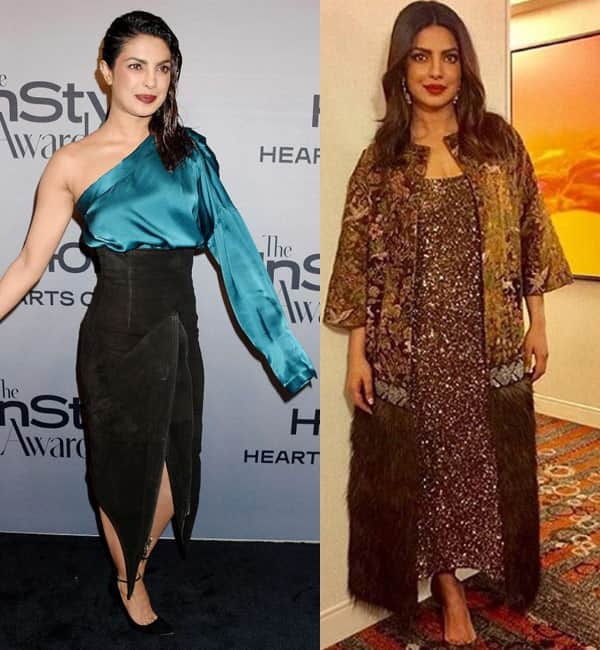 Katrina Kaif
The year began with a bang for Kat. Out of the blue, an experimental phase took over the diva's mind. I found her donning some of the coolest ensembles. However, she may have taken the risqué factor a little too far. In the Cushni Et Ochs crop top and high waist skirt, was a faux pas we found. As you can see, her chest looked extremely weird. I blame the crop top for this. The look would've worked had the crop top not been so awkward. And just as we were happy with her experimental stride, Kat once again went back to square one. At an awards function where she was honoured with a style award, Miss Kaif accepted the award wearing what can be called one of the most boring looking outfit. There was no spunk, glamour or sass about this gown. Very Barbie, something we though Kat was over.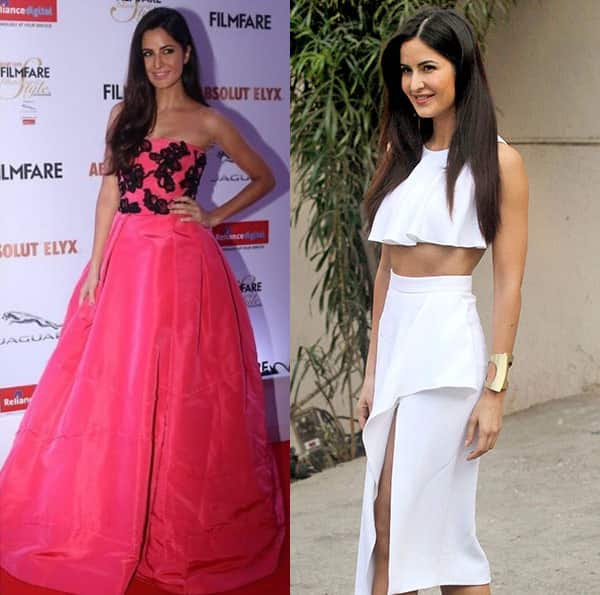 Shraddha Kapoor
Miss Kapoor has disobeyed the fashion rules, many a times in this year. Wearing terribly styled looks, I was very disappointed in her. What turned out to be the worst one for me was the coloured Christopher Kane outfit. Firstly, the cuts in various parts of the dress were a turn off. Add the colour palette and it was an overall drab look. I just hope Shraddha looks for new ways to marvel us during OK Jaanu promotions!
Jacqueline Fernandez
The year 2016 was a mix for Jacky's fashion game. We saw some funky cool looks as well as dull dud looks. However, with all the looks she made us cringe with, this hideous sheer gown and confusing black outfit pushed us off the hedge. I wouldn't really have to explain a lot with respect to the sheer gown. There's so much that hurts the eye from her gown to her hair to her makeup that we best drop it there itself. However, this interesting but drab black outfit is something we should discuss. Miss Fernandez always likes to bring something new to the wardrobe in terms of her style and while we have to admit this is something new, it definitely isn't gorgeous.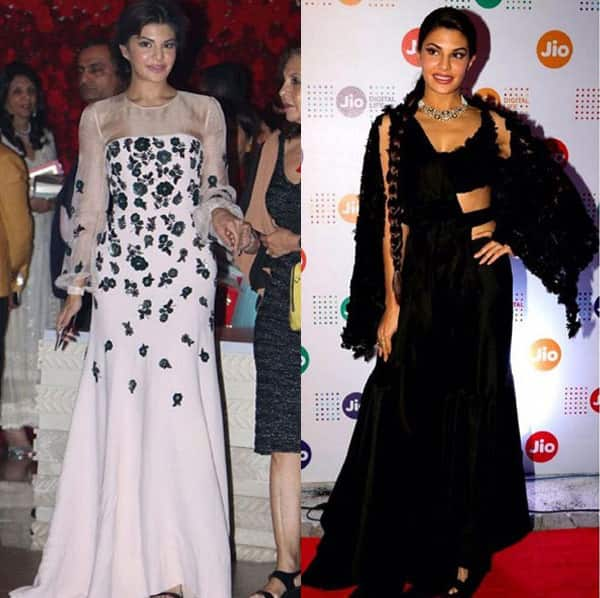 Sidharth Malhotra
Anybody looking for Peter Pan? What's wrong with you Sid? You're one of the best dressed actors! Why would you want to look like a character from JM Barrie's fictional world? Perhaps a white shirt inside would've reduced the whole Peter Pan feel from this outing. This, again, is from the red carpet of an awards show. Correction, a style awards event.
15 WORST outfits of 2016 that need to be flushed out-Set 1
Reviewed by
Deepak
on
3:41 AM
Rating: