15 WORST outfits of 2016 that need to be flushed out-Set 2
Ranveer Singh
King of kitschiness, Singh may be a breakthough fashion expert for men, but these psychedelic patterns is surely too much to take. I know his fashion sense damn well by now and while he loves colours and patterns, sometimes too much isn't good. And clearly, in this case, there are so many elements that stand out that Singh's face fades away! Don't you think?
Aishwarya Rai Bachchan
Finally, I end the list with our all time favourite, Ash! The actress may have amped up her dressing sense since Ae Dil Hai Mushkil but she still has a long way to go. At Mukesh Ambani's party, the 43 year old actress decided to go a little star studded. Little did she realize that she didn't have to go looking like a constellation! The sequined work on her Manish Malhotra creation plus the bad red skirt is just hurting the eye. Sadly, Mrs Bachchan hasn't learnt the art of balancing looks. It's either too kitschy or too bland. Like this dull dud of an outfit.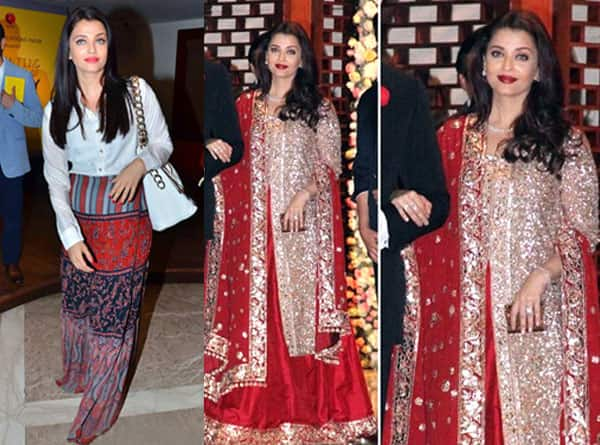 Emraan Hashmi
Emraan Hashmi only knows how to kiss! and he is completely unaware of what type of clothes he should wear. Look at his shirt. There are fancy prints on his shirts which are looking totally worse.
Vidya Balan
Vidya Balan is known as the fashion disaster Bollywood celeb. In each and every event she is spotted wearing funny type of dresses. She always wear those dresses which are completely umatchable to her personality. See her clothing in the picture above, I think that she is celebrating Halloween!
Sonakshi Sinha
Oh My God! Sonakshi Sinha always wear those clothes which are not according to her personality. The Dabangg girl should try to opt for decent clothes instead of wearing these type of dresses. She try to look like Katrina and Kareena but one thing she should keep in mind that she doesn't have a figure like Katrina so she should wear clothes according to her figure.
Parineeti Chopra
Just like Sonakshi Sinha, Parineeti chopra should opt for those clothes which match her fat figure!
credits: bollywoodlife
15 WORST outfits of 2016 that need to be flushed out-Set 2
Reviewed by
Deepak
on
5:07 AM
Rating: